The 99th precinct of the NYPD is the main setting for the show. More specifically, the fourth floor is where the captain and detectives work.
First Floor
Edit
The first floor of the 99th precinct is used by officers working Vice and Homicide cases.
Second Floor
Edit
The second floor houses the Drug Enforcement Administration (DEA).
Third Floor
Edit
The third floor of the Nine-Nine is formerly devoted to working with sex crimes, which had the best Christmas party, now it's being used by Cyber Crimes- who hijacked the squad's internet in the past.
Fourth Floor
Edit
Read full article on The 99th Precinct 4th Floor
The fourth floor of NYPD's 99th Precinct is the main setting for the show. The floor is designated to work with crimes and special victims. The precinct's captain's office is located on the fourth floor. And the cell holder.
Fifth Floor
Edit
It is unclear what is located on the fifth floor, but there are five rows of windows on the exterior of the building and stairs leading up from the fourth floor. There is an empty office where Rosa goes to watch her favourite soap opera.[1]
Employees
Edit
See NYPD Employees for full list.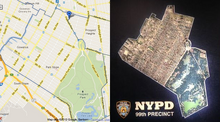 The real NYPD doesn't have a 99th precinct.
Exterior shots of the Nine-Nine are actually of the 78th precinct in Brooklyn.
The boundaries of the imaginary 99th precinct's jurisdictions are the same as the real life 78th's.
Some outdoor scenes have been shot on the New York Street and the Brownstone Street sets on the backlots of the Universal Studios Hollywood's Lower Lots.
Cite error: <ref> tags exist, but no <references/> tag was found
Community content is available under
CC-BY-SA
unless otherwise noted.